Here's everything you need to know about the Great South Run 2017 on Saturday 21st and Sunday 22nd October!
10K Timetable: 22nd October
7:00am: car parking on Southsea Common and information point opens
7:30am: baggage room opens
9:00am: start assembly area opens
10:15am: Great South Run elite women's race starts
10:20am: fast-paced runners and ORANGE wave warm-up
10:35am: Great South Run elite men and ORANGE wave start
10:38am: WHITE wave warm-up
10:48am: start of WHITE wave
10:55am: GREEN wave warm-up
11:05am: start of GREEN wave
On Sunday 22nd October, the Great South Run returns to Portsmouth, and thousands of racers are set to take on the scenic 10-mile course.
It's fast and flat, starting and finishing on Clarence Esplanade along Southsea seafront, leading through Old Portsmouth and Portsmouth Historic Dockyard.
After exiting the dockyard, where you'll be able to see world-famous ships like HMS Victory and HMS Warrior, the route leads onto Winston Churchill Avenue before swerving back towards the shoreline for the final two miles. The course is steeped in history dating as far back as 1212, and features a number of charity cheering points, boost zones, and bands on the run.
Great South Run 5K and Junior & Mini Great South Run: Saturday 21st October
A popular event for first-time runners looking to take a debut foray into the realms of long-distance running, but also for people who may feel their legs can no longer take ten miles of running.
Car parking on Southsea Common opens, along with information desk and baggage drop
5K start assembly areas open
5K Course
This fast, flat 5K course is perfect for beginner runners, or those who are looking for a personal best across a shorter running route. Runners, joggers, and walkers will enjoy the scenic views of the Solent and the Isle of Wight as they start on Clarence esplanade, head past Clarence Pier and Southsea Common, and cross the finish line close to The Pyramids Centre on the seafront.
Inspirational fundraiser Claire Lomas MBE is taking part in the Great South Run, aiming to complete the 10-mile run in 24 hours. Claire, who is paralyzed from the chest down, will be aided by the revolutionary ReWalk suit on her #10in24 challenge.
She'll begin on Saturday 21st October, where she'll set off from Clarence Esplanade. She'll complete just under half a mile each hour, taking in the same route as the 20,000 other runners, including a course through Portsmouth Historic Dockyard.
In 2014, Claire became the first person to complete the Great North Run in a robotic suit. It took her five days to complete the 13.1 mile course.
A year after the horse-riding accident which left her paralyzed, Claire met and later married her husband Dan. They had a baby girl — Maisie. She found some new sports, set up a business, and fundraised for the Nicholls Spinal Injury Foundation to help get a cure for paralysis.
Supporters can follow her progress through live tracking and by using the hashtag #10in24.
Claire's timetable
Saturday 21st October
11:45am: Start from Clarence Esplanade
2:15pm: Gunwharf Quays and Spinnaker Tower
2:45pm: Portsmouth Historic Dockyard — Victory Gate
6:00pm: HMS Nelson Main Gate
8:00pm: University of Portmouth
10:00pm: Southsea Common
Sunday 22nd October
3:00am: Henderson Road
9:00am: Eastney Esplanade
11:45am: Finish!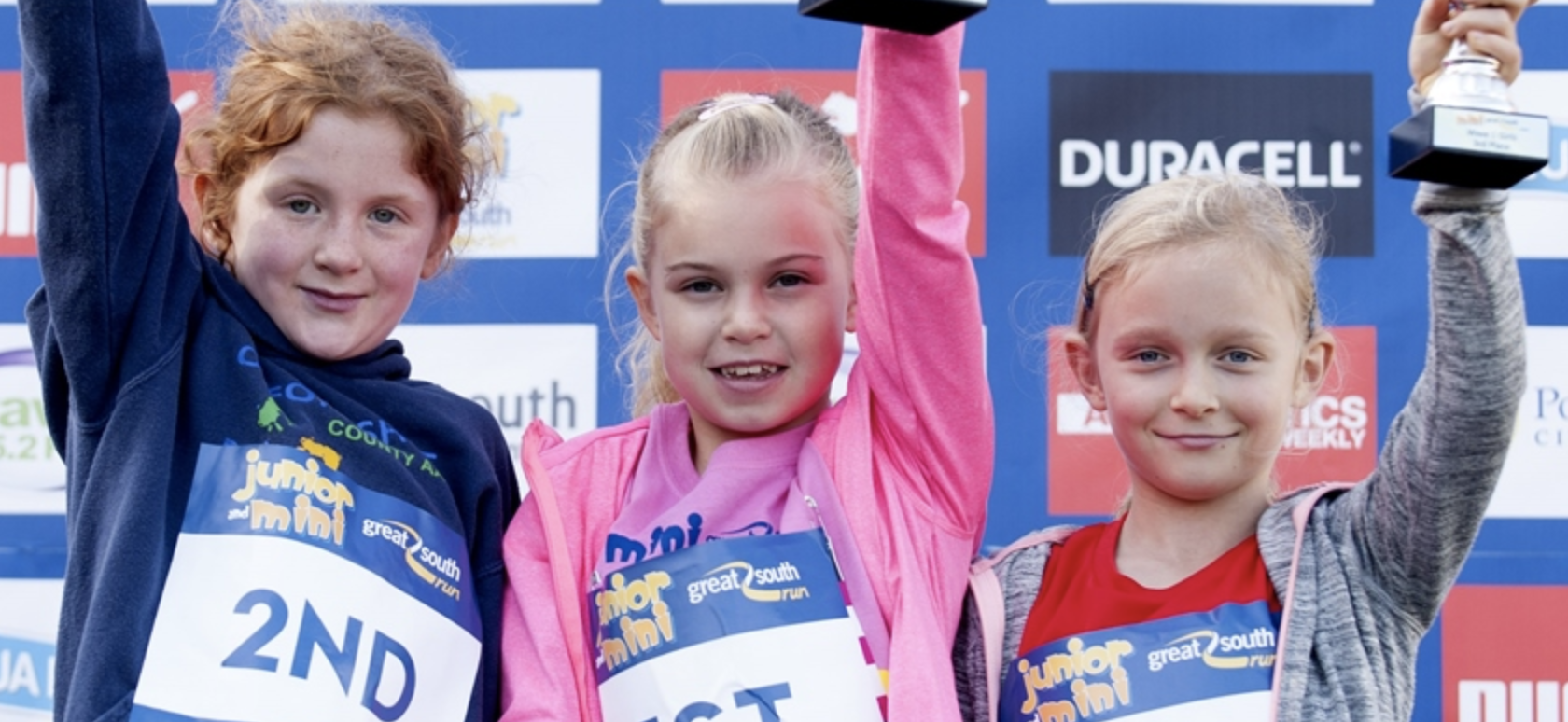 Junior & Mini Great South Run
Every year, 2,500 young runners warm up the streets of Southsea for the Junior and Mini Great South Run, the biggest children's running event in the south. There are 1.5K and 2.5K courses.
Car parking on Southsea Common opens, along with information desk and baggage drop
Mini Great South Run PINK start
Mini Great South Run GREEN start
Junior Great South Run for self-propelled wheelchairs start (boys and girls)
Junior Great South Run Girls start
Junior Great South Run Boys start
Junior & Mini Courses
Both routes start on Clarence Esplanade, opposite Southsea Skatepark. From here, all runners head west past the D-Day Museum and Blue Reef Aquarium.
Mini runners then turn right into Serpentine Way whilst Junior runners head up to a turnaround point next to Mozzarella Joes. Both runs then head up Serpentine Way and down Lady's mile to reach Avenue de Caen. The kids then head for the finish, back on Clarence Esplanade.
Channel 5's Milkshake! presenters Kemi Majeks and Nathan Connor will set thousands of youngsters on their way at the Junior and Mini Great South Run.
To celebrate the presenters visiting, the event will have a Milkshake!-themed fancy dress competition, with Kemi and Nathan giving on-the-spot prizes to the best costumes.
Children are invited to run the 1.5K or 2.5K courses dressed as any of the wonderful characters from Milkshake! shows, including Bob the Builder, Peppa Pig, Toyland Detective, Fireman Sam, Thomas and Friends, PAW Patrol, and Ben & Holly's Little Kingdom.
Mums and dads can get involved, too
Celebrities
Arrival, departure, road closures, and spectating
Pier Road, Clarence Esplanade, and Avenue de Caen will all be closed from 6:00am, with the remainder of the roads in use by the event closing between 9:00am and 9:45am. Runners should plan to arrive in Portsmouth by 8:30am, to allow plenty of time to get to the start.
Traffic in and out of Portsmouth is limited to two main routes: the Western entrance (M275) and the Eastern Road (A2030).
Once in Portsmouth, look for the large digital boards giving parking and traffic information. There are several car parks away from the main road closures which will minimize your exit out of Portsmouth.
If you wish to park as close as possible to the event, there is a temporary event car park on Southsea Common at a charge of £5.00 per vehicle.
Cars will be able to exit this car park from around 12:15pm.
Parking will be free for displaced residents with a valid residents' permit.
Refer to Portsmouth City Council's street map to see car parking areas, or click the image below to enlarge the Great South Run parking map:
Portsmouth City Council are operating a free shuttle bus service to the Great South Run from the Hayling Ferry.
The minibus can carry 33 passengers per journey, and will shuttle runners between the ferry terminal and the southern end of Waverley Road (The Strand).
It will operate on a first-come first-served basis from the ferry terminal between 8:10am and 9:10am, and then between 2:30pm and 3:30pm for the return journey.
The bus will be free of charge with a valid Hayling Ferry ticket.
A special Park & Ride service has been organized for runners and spectators traveling to Portsmouth, from the multi-storey car park at Portsmouth International Port. Buses are running frequently from 7:00am to 9:00am, taking runners and spectators directly to Clarence Pier.
Return buses will be waiting to depart from Clarence Pier from 12:15pm, and will run until 3:30pm. It costs £4.00 per vehicle, with up to five passengers.
The regular Portsmouth Park & Ride will still be operating every 15 minutes for shoppers, visitors, and spectators traveling to the city centre and The Hard Interchange. This will run from the earlier time of 8:00am.
Buses leaving the Park & Ride site between 9:15am and 3:00pm will only travel as far as the city centre (Stand F at Commercial Road South for the inbound and return journey) due to road closures for the Great South Run.
The Hard Interchange will resume when the roads reopen at approximately 3:00pm. The last bus leaves The Hard Interchange at 6:00pm, and from the city centre at 6:04pm.
Where to watch
Clarence Esplanade leading to Clarence Pier is an excellent vantage point for the Great South Run 2017. You can also wave at runners and cheer them on as they go past Gunwharf Quays, if you're out and about on a shopping trip or getting a drink or something to eat with friends.